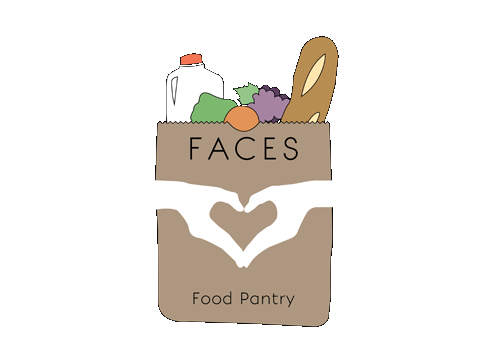 FARMVILLE AREA COMMUNITY EMERGENCY SERVICES
WELCOME
Our mission is to provide emergency and supplementary food to qualified residents of the area we serve.
FACES distributions are carried out every Saturday from 8:00AM–10:30 AM from our warehouse at 482 Commerce Street, Farmville, Virginia. Registration, including documentation of residence and financial need, is required and can be done on site.
FACES is an all-volunteer organization. We warmly welcome all who can help. Our major need for volunteers is on Thursday morning 8:00AM–11:00 AM to receive and sort food; Thursday afternoon from 3:00-4:00 PM for bagging, and Saturday 7:30 AM–10:30 AM for distributions.
FACES is entirely dependent on donations from the public. We welcome donations of both food and money. Because we can purchase surplus food for as little as 19 cents a pound, cash contributions purchase 5 to 10 times what they would at a retail store.
For a full portrait of FACES including Governance and Financial Reports (IRS 990's), go to https://www.connectva.org/groups/farmville-area-community-emergency-services-inc/general-info/
​
​
​
CARE ACT/STIMULUS CHECKS
​
Many people need this financial help to support
their family. Those of us more fortunate in this
difficult time might consider a donation to keep
out food pantry at 100%. All gifts matter especially
during this elevated time of need.
Our thanks from FACES!
------------------------------------------------------------------
** Donations and Volunteers Needed -----SEE BELOW**
​
FACES WILL CONTINUE TO DELIVER ON FRIDAY AND DISTRIBUTE ON SATURDAY
8-10:30 am
PLEASE HELP US CONTINUE DISTRIBUTIONS TO YOU BY OBSERVING THE FOLLOWING:
VARY TIMING TO AVOID TRAFFIC JAMS
PLEASE FOLLOW TRAFFIC DIRECTIONS
DO NOT GET OUT OF YOUR CAR UNLESS YOU HAVE TO REGISTER FOR THE FIRST TIME OR PICK UP A CARD.
Please take recommended actions, masks, hand cleaning, senior adult risks, etc. before making your trip.
​
For news about future distributions, check WFLO; FACES website, facesfoodpantry.com; our Facebook page, or call 434-392-6277
FACES is working hard to ensure everyone has enough to eat.
​
DONATE MONEY
​
Our resources will likely be stretched in the coming weeks/months in ways we cannot anticipate at present.
Donated Funds give FACES the flexibility to respond to unanticipated needs and purchase more food. Use the DONATE button above or mail checks to the address below. FACES thanks you for sharing what you can.
​
VOLUNTEERS NEEDED
​
We anticipate a need for more "adult" volunteers. If you are healthy and do not have an underlying medical condition, we welcome your assistance on Thursdays 9:00-11:00 am and 3:30-5:30 pm and Saturdays 7:30-11:00 am. See the Volunteer page. Contact Bobby Eiban
at
beiban@kinex.net
​
PROTECTION PROTOCOLS
FOR FACES VOLUNTEERS
YOUR SERVICE TO THE COMMUNITY IS VERY MUCH APPRECIATED BUT PLEASE OBSERVE THESE GUIDELINES TO PROTECT YOURSELF AND CLIENTS
DO NOT VOLUNTEER IF YOU ARE NOT WELL.
DO NOT VOLUNTEER IF YOU ARE NOT COMFORTABLE DOING SO, ESPECIALLY IF YOU ARE OVER 65..
MAINTAIN A DISTANCE OF MORE THAN 6 FEET AT ALL TIMES.
WASH YOUR HANDS BEFORE AND AFTER WORKING.
WEAR GLOVES IF YOU ARE HANDLING FOOD.
IF YOU COUGH, COUGH INTO YOUR SLEEVE.
WIPE DOWN OR SPRAY FREQUENTLY USED SURFACES WITH DISINFECTANT BEFORE AND AFTER WORK