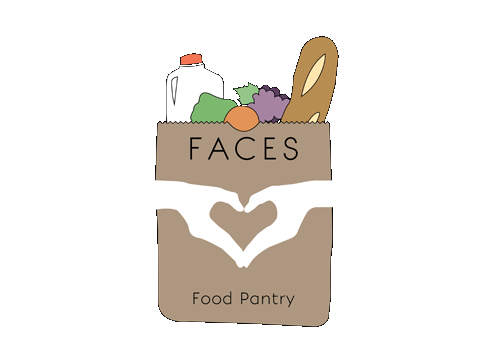 FARMVILLE AREA COMMUNITY EMERGENCY SERVICES
FACES is an expression of the greater Farmville community that created it and sustains it.
FACES was founded in 1981 by a group including ministers, farmers, housewives, teachers and others with the mission of distributing donated food to local families in need. Distributions were made to a small number of families from a cramped second floor storage room above a shoe repair shop on West Third Street. Since then it has evolved into one of the largest and most efficient food agencies in Virginia. FACES now distributes food to an average of 900 households annually representing over 1,800 individuals carefully screened to document need.
FACES activities are supported entirely through voluntary labor and monetary contributions from the Farmville area community. Baptist, Methodist, Episcopal, Presbyterian, Mormon, and Lutheran churches rotate and share weekly bagging and distributions as well as contributing generously for the purchase of food. Longwood, Hampden-Sydney and Crossroads supply regular volunteer labor essential to the operation. Instead of hiring paid staff, FACES assigns each of its 23 local board members a specific weekly job.
The Herald has been generous in helping us get the word out to potential volunteers and donors. The Town of Farmville provides our building and Prince Edward County a generous contribution. The Central Virginia Food Bank, FEEDMORE, enables us to buy food for about 19 cents a pound. Food Lion and Walmart donate produce, baked goods, and meat in substantial amounts several times per week.
2019
FACES was designated a "Tier 1" Food Agency (the highest on a scale of 1-5) by Central Virginia Food Bank for size and effectiveness.
Households Registered: 983
Average number of individuals receiving food weekly: 1,093 Annually 1,838
Average number of food bags (30 pounds) distributed weekly: 650
Food distributed annually: CVFB estimate: over 1,300,000 pounds or 512 tons
Total annual budget 2019: $94,000
Persons living below the poverty level, Prince Edward County: 19.8%, approximately 4530 individuals
​
The Cub Scouts and Boy Scouts, Prince Edward and Fuqua schools, Triad, Centra Healthcare, Longwood athletics, and the Post Office do major food drives. Local civic groups such as the United Way, Rotary, Lions, MOAA, and the Women of the Moose as well as businesses including Wells Fargo, BB&T, and the Virginia Credit Union give important financial support. Our largest source of financing is generous contributions from hundreds of local citizens.
Thanks to all of these sources, and many others not mentioned by name, we are able to buy, store, and deliver approximately 1,300,000 pounds of food annually to families, the elderly, and the disabled in our area with documented need.
FACES is a mirror reflection of the people of the greater Farmville area: neighbors helping neighbors.